Imax B6 RC Electric Charger Tutorial,SEQURE
B6 charger is a multi-functional charger, which supports dual input. It is a fast charging / discharging device with high-tech and professional control software with built-in high-performance microprocessor.
The types of rechargeable batteries supported include Li-ion、Li-Poly、Li-Fe、Ni-Cd、Ni-MH和Pb, almost covering the mainstream types of rechargeable batteries..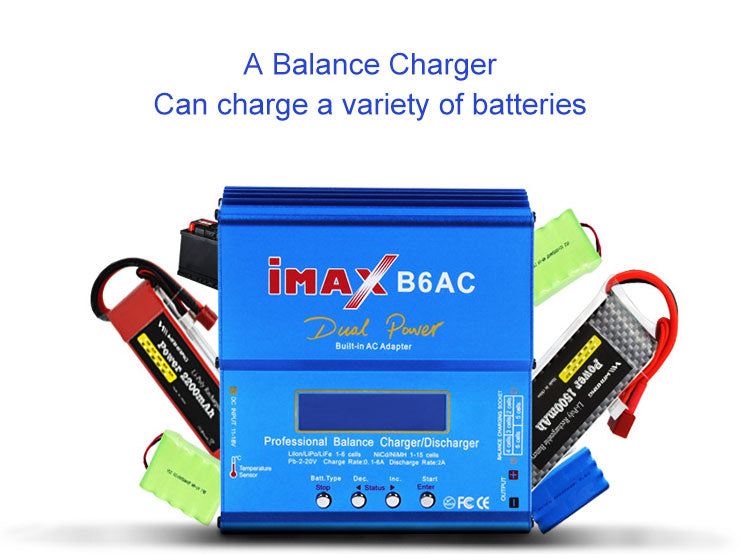 It can support the balanced charging mode of 6 series polymer lithium batteries at most, and the maximum charging current can reach 5A. At the same time, it has the function of discharging, and the maximum discharge current is 1A.
At the same time, the product has built-in polymer lithium battery balancer, which can balance charge 2, 3, 4, 5 and 6 series of polymer lithium batteries, so that the charging effect is better.
Temperature sensor interface is designed on the side of fuselage. Imax b6 mini charger adopts a dot matrix LCD with backlight, which can display the operation menu and charging state, which is convenient and intuitive, and also very beautiful.
More importantly, owning such a multifunctional charger only costs very little money.
Dear Customer/DIYer
Thank you very much for your support and hope you have a happy and interesting shopping experience. We are very welcome to the majority of customers and friends to participate in our DIY interesting articles sharing activities.
Share & Cash Back
All the customers who bought our products include electric soldering iron, screwdriver, spot welder, stepper motor, motor drive,VESC on sequremall.com. Welcome to write down the interesting DIY events in the product process and share them on sequremall.com.
The number of words is more than 300 words, have exquisite picture in the article. Send us your article. After check your article and it pass through, we will cashback the amount of 5-8 dollars according to the quality of the articles.
Welcome to contact this email (info@sequremall.com) and send us the articles for checking.